During a recent conversation with a colleague, who is also a business owner, we talked about how she can maintain the organizational culture she has so painstakingly nurtured although her staff is growing at a rapid clip. Organizational culture directly affects employee performance, job satisfaction, retention, growth, and capacity for change. How we understand and relate to each other is critical to a successful business environment. In order to drive strategy, create systems, and develop strong core processes, leaders must first cultivate a culture that minimizes institutional barriers.
DeYoung Consulting Services was recently tasked with the challenge of conducting an organizational assessment to help a large, multi-faceted organization assess their existing culture, discover what factors are contributing to their current challenges, and make recommendations for improving the internal environment and systems to help them recruit, retain and promote a talented and diverse workforce.
The Situation
Our client was struggling with a hiring process that many viewed as cumbersome, confusing, and inconsistent across departments. There was also a disconnect between the current recruitment strategies and the job-seeking strategies of prospective employees, particularly millennials. Their highly complex job classification systems, application and screening protocols, and compensation plans were creating barriers, both for managers and potential employees. Leadership agreed that new approaches and methods were needed to attract the kind of talent pool best suited to serve their constituents. They also wanted to develop and maintain an environment that could foster the skills of their employees while increasing energy and motivation, sparking fresh thinking, and preventing lethargy and drift.
The Model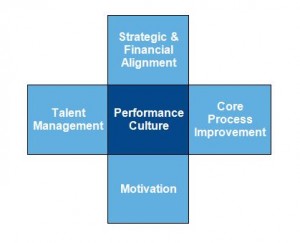 We knew that we needed a model that would help the client assess its current state, but also provide a means of evaluating movement toward their desired ideal. We chose to use the Cultural Maturity Model[1] of assessment to help this organization find the best avenues for change.
The Cultural Maturity Model places central importance on building a high-performing organizational culture and recognizes the influence of culture upon the functioning of every aspect of an organization.
This model analyzes the four primary drivers (aspects within an organization that leverage energy) of any organization. These drivers include Strategic and Financial Alignment, Motivation, Talent Management, and Core Process Improvement. Understanding these drivers helps organizations to move toward a high-performance culture.
Here is how one of these drivers, Motivation, guided the organizational assessment.
Motivation Driver
"As leaders, it's important that we're constantly taking stock of what life is like for employees on every rung of the ladder and making sure they have what they need to live well while they're doing their jobs."
– Craig Williams, Forbes.com[2]
Motivation is a backbone of building a high-performance culture. Examples of motivational challenges faced by employees in this study included a lack of clarity and consistency in implementation of HR processes, few career paths, and inconsistent evaluation of employee performance. All of this dampened employee motivation, lessened engagement and had a negative effect on organizational culture.
Understanding what is driving culture will help the business know which skills and practices must be cultivated to create a supportive learning environment where differences are appreciated. Promoting change within a complex system is challenging and requires flexibility and work across teams, management, employees and all departments.
To commit to real change, leaders within the organization must be nimble and move away from the hierarchal, traditional rules of the past and transition into an innovative environment that allows employees at all levels to have input into decision- and direction-making processes.
Conducting an organizational assessment that makes use of the Cultural Maturity Model can enable a business to structure itself so all employees feel valued and engaged.
If you want to learn about your organizational culture and its effect on motivation, please contact DeYoung Consulting Services for a discussion of your needs and our services at (612) 336-3755 or by email at karen@deyoungconsultingservices.com.
If you would like to read more on this topic, here is an interesting post called "What is Organizational Culture" from the Harvard Business Review.
[1] Building A Performance Culture, A guide for Leaders by Tim Kuppler, 2017
[2] Motivating Employees Should Be One of a Leader's Top Priorities, 2017