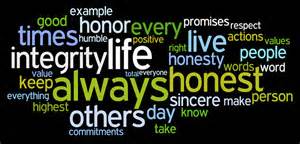 "Your reputation and integrity are everything. Follow through on what you say you're going to do. Your credibility can only be built over time, and it is built from the history of your words and actions." – Maria Razumich-Zec
DeYoung Consulting Services was hired recently to take over a CEO's performance evaluation after the previous consultant broke the confidence between interviewees while conducting interviews with stakeholders. Maintaining client confidence is an indicator of integrity. Integrity is a foundational value for DeYoung Consulting Services, and a crucial part of how we conduct business. As the quote above says, your reputation is everything, and to us it seems both difficult and disingenuous to maintain a business without acting with integrity in all aspects of your work.
When our team came on board for the performance evaluation, both the board and the staff were wary, and we had to earn everyone's trust. The previous consultant had shared individual interview responses with other interviewees on the board, in leadership, and on staff. We approached the situation slowly, trying to earn their trust. We began by explaining our backgrounds and our practices regarding confidentiality, while defining all of the safeguards that we would put into place. Soon the board and employees trusted us enough to speak to without fear.
This time, the result was much different for our client. As a direct result of the integrity with which we acted, the client had a much more positive experience, and even said that they enjoyed the process. Employees noted that they felt comfortable with the process of the evaluation, and that it was meaningful and felt safe. Both the Board and employees felt that they could share their real perspectives, which led to a much more meaningful and useful performance evaluation than could have been obtained otherwise.
As a business owner, reputation rules. Much of your work comes from previous clients and colleagues who recommend you. One instance of working without integrity can ruin everything. People continue to engage us for our services, not only because of the quality of our work, but because of the integrity with which we act. The extent to which a business acts with integrity is a reflection of the person who owns and runs the business. For me, integrity is a core value in how I act in my personal life, and therefore is at the center of my professional life.
At DeYoung Consulting Services, we pride ourselves on always acting with integrity. As we say in our company values, "Our reputation is our most important asset, so we'll always treat our customers with respect."