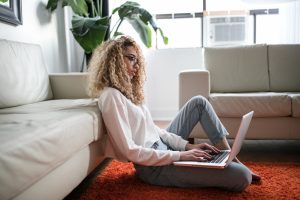 When the world shut down in 2020, there were many unknowns. The world seemingly woke up one morning in quarantine without any guidance on how to "do life" in a pandemic. We were forced to be flexible but there was no direction on how to pivot and bend with the destructive path of the virus. Many of the unknowns and side effects of the pandemic were, and still are, scary. But one positive side-effect was the sudden flexibility employers needed to extend to employees to keep businesses running.
If you didn't have a job that required you to work on the front lines, you most likely ended up working virtually from home, finding the perfect computer angle that didn't show the pile of clean laundry to the left and the messy room to the right. For some, this was a seamless transition. For others, this sudden shift was extremely disruptive. Schedules and routines were tossed out the window. Work environments felt chaotic. Employees simultaneously had to juggle parenting, distance-learning, virtual meetings, work responsibilities, and a household. It's no wonder so many employees have felt increasingly burned out over the last year and a half and many have quit their jobs, resulting in The Great Resignation.
One key element that contributed to the well-being of employees during this time was the recognition of the need for flexible working environments, whether that be virtually working, a non-traditional work environment, a shift in schedule, or all three. This surge in flexible work environments continues to appeal to an exhausted workforce.
The teams I work with are both understanding and flexible; they have been monumental in ensuring my mental well-being during this worldly crisis. Knowing I can finish work during non-traditional workday hours or have my toddler on a virtual meeting with me in a pinch gives me the flexibility I need to be able to quickly switch hats from parent to employee as needed. Yet still, sometimes I find myself wearing too many hats, like when my toddler closed my laptop on a meeting with the team while gleefully proclaiming, "buh bye!" Thankfully when I returned to the meeting, I was met with giggles and forgiveness.
This transparent flexibility communicated from leadership most definitely enhances my loyalty and dedication to my job, and I am not alone. According to this SHRM article, even in non-pandemic times, flexible work environments can lead to recruiting exceptional talent and retaining employees. Allowing employees to work partially or full-time from home can cut down on overhead and office space costs, can improve employee engagement, and lead to increased productivity.
Additionally, flexible work environments allow employees to work at times when they are most productive and can cut down on commuting time and costs (if they are working from home) therefore allowing more free time and improving overall employee morale. Personally, I also appreciate not having to invest time getting ready to go into the office in the mornings. The global Zoom uniform has become sweatpants with suit jackets (unless you're this guy starring in a Folger's commercial) and I am here for it.
Flexible work environments can also lead to more light-hearted moments, reminding us that at the end of the day, we're all human regardless of job titles. Rambunctious toddlers, Zoom filters accidentally applied during important meetings, and my personal favorite, Godzilla Cat, where the beloved family feline casually saunters across the computer camera taking up the entire screen, has added sprinkles of humor to the pandemic world.
It would be remiss of me not to mention the importance of extending flexibility to front-line workers. According to research done by Accenture, front-line employees are seeking flexibility from employees as they search for jobs. This can mean scheduling non-traditional shifts and hours, not forcing employees to work holidays, and utilizing technology to streamline previous in-person processes.
Ultimately, there is a compelling case for employers to keep flexible scheduling and work environments. Of course, there are employees who may prefer to stick with a traditional office schedule and environment, and it is important that people in this camp don't get left behind. But accommodating both preferences can really diversify and broaden your workforce, appeal to exceptional talent, and improve company morale.
Amy Snetting is a project manager for DeYoung Consulting Services and the Director of Youth Ministry for a congregation in South Minneapolis. She lives with her husband, is a human and dog mom, enjoys reading and exploring local parks and trails.