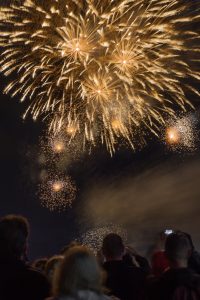 My friends, it has begun. The frantic start of rushed resolutions being made by people who want to make positive changes within their lives. In the next few weeks we will see overcrowded gyms, a drop in the consumption of sweets and alcohol (for some), and people generally wanting to become more productive within their personal and professional lives. And why not? Why shouldn't we strive to be our best selves? We all want to start that journey toward self-fulfillment. Many people attempt to do so by making New Year's resolutions.
It is a great idea to set goals for yourself, but the unfortunate truth is that the majority of people who make New Year's resolutions will ultimately fail. The question is why? When people make resolutions a lot of emotions help fuel the need for change. The problem is that people go forward blindly thinking that their drive is enough to sustain the journey to success. This is not the case. People's intentions are good, but in order for them to be successful, they will have to commit to including a lot more preparation and organization. My role as a Project Manager at DeYoung Consulting Services provides me with insight into the important steps required to become better prepared for success.
As a Project Manager, my approach to tasks is very thought out. I begin each project with a breakdown of what I am trying to accomplish. After the goals have been set it is important to then create a structured outline of the different steps to be taken, an evaluation of the resources available to complete my tasks, and most importantly a timeline for completing each stage of the project. For example, at the start of the New Year, I knew that I had some health goals for myself. I started my process by first making a list of what my specific goals were and the different ways I could achieve them. I did research and created a plan tailor-made for my capabilities and goals. I equipped myself with applications that would allow me to account for my daily caloric intake, time my daily fasts, and provide me with workout routines for the days I would not be able to make it to the gym. I also created a timeline and included expectations for the different stages of my journey. This was to ensure that I held myself accountable during the entire process. The mindset of a Project Manager can be used as a means for completing any task. Whether you're researching a new profession or trying to organize schedules to plan a family vacation, this life skill allows you to take a much more structured approach to accomplish goals. This level of preparation and organization can be used in any facet of your life and ensures that you will be better equipped on your journey to success.
Christopher Jones is a Project Manager with DeYoung Consulting Services. Chris holds a Bachelor of Arts in Marketing from Strayer University. Chris is a husband, father, an avid reader, and an admitted sneaker hoarder.